[vc_row][vc_column][vc_column_text css_animation="fadeIn"]

MEDICAL MASK SHORTAGE WORLD-WIDE!
[/vc_column_text][/vc_column][/vc_row][vc_row][vc_column][vc_text_separator title=""][vc_column_text]
Reuse Your Existing Masks – Save Money and Always Have a Germ-free Mask!
[/vc_column_text][/vc_column][/vc_row][vc_row][vc_column width="2/3"][vc_column_text]
STAY SAFE AND CLEAN!
Not only is keeping your medical masks germ-free a healthy choice, but you can also save money.And you don't risk not having a mask when you can't get them anymore.
If you try to buy them, they're all sold out. And even Amazon has a shortage. There are months-long waiting times to get them. Try it for yourself and find out!
All over the world, MEDICAL MASKS ARE SOLD OUT! You can't replace your supply!
But now you can save money and always be sure of a clean,
sterile mask!
Now you can use our UV Disinfection lamp to disinfect the mask ! and don't need to worry about not being able to buy a medical mask.
[/vc_column_text][/vc_column][vc_column width="1/3"][porto_product use_simple="" id="4335"][/vc_column][/vc_row][vc_row][vc_column width="2/3"][vc_column_text]
USE UV SANITIZER LAMP FOR EVERYTHING IN YOUR HOME!
Your remote control might be the filthiest thing in your home or hotel room!
There are dozens of things that could really be dirty, but according to scientific studies, the most germ- and bacteria-infested item you can handle is the REMOTE CONTROL!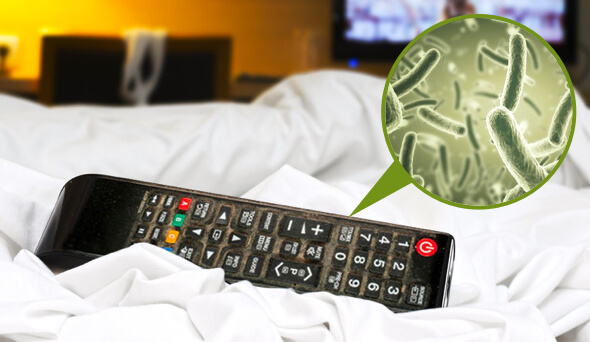 These remotes are almost never cleaned. Think about what people might be doing before they handle their remote control. Going to the bathroom and not washing their hands. Some people even handle their own feces. There is no end to how disgusting other people are.
They might have just picked their nose, changed a diaper, scratched a bloody scab, or not washed their hands after touching somebody's smelly private parts! EWWWWW!
Just imagine that you flop down on the bed after a long trip, flip on the TV with the remote, and then absentmindedly eat a snack. WHO KNOWS WHAT GERMS YOU WILL BE PUTTING IN YOUR MOUTH!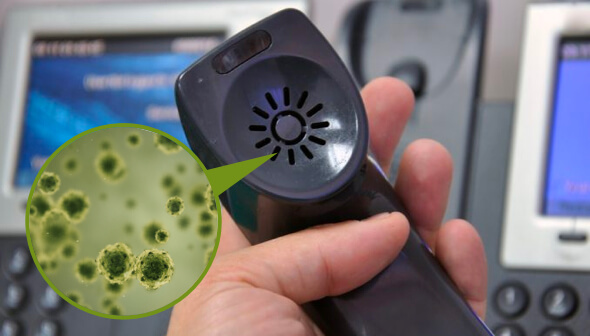 My family doctor warned me that our office phone was really dirty too. Even my own cell phone! Did you ever wonder why everyone in an office gets sick at the same time? Because they ALL USE THE PHONES!
And according to health officials, THE TRAYS ON AIRLINERS ARE ALMOST NEVER CLEANED AND CRAWLING WITH RAW DISEASE GERMS LIKE E. COLI!
The thought of all the creepy crawlies living on stuff made my stomach turn.
BUT NOW THERE'S A WAY TO PROTECT YOURSELF, ALL THE TIME!
After TONS of research, I found the best of the best UV sanitizers. Some were too weak, some didn't cover the whole spectrum, some just didn't work. But one, the patented UV sanitizer lamp, just came out and it ticks every box!
Turn on it, and it kills the bacteria and viruses on there. You life was made cleaner and safer immediately!